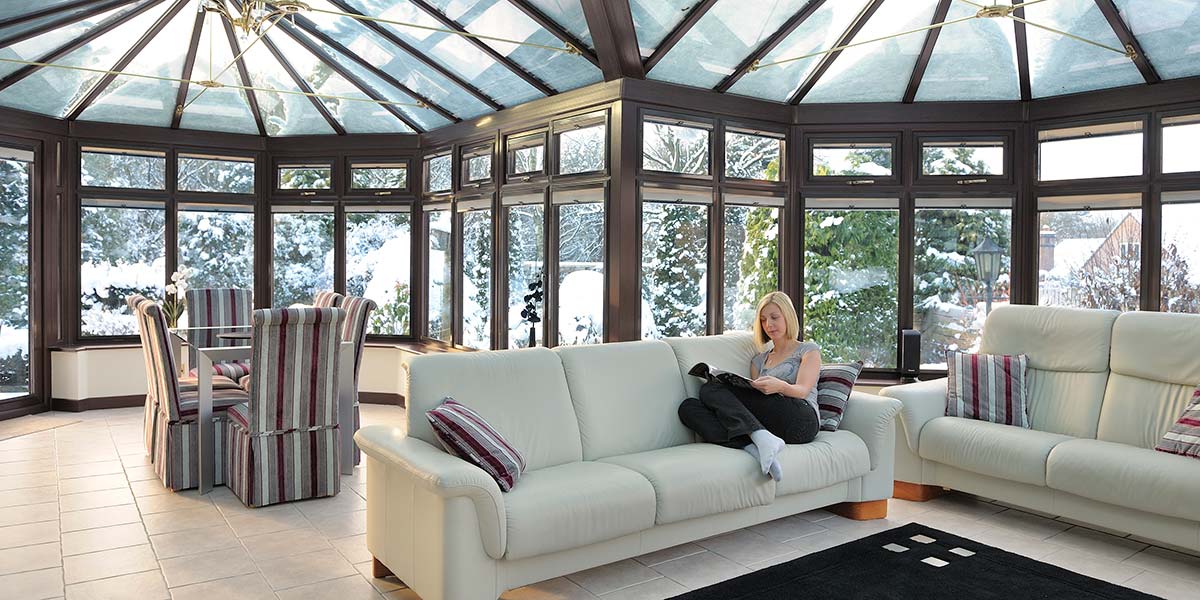 Too many conservatories built 40, 30 or even 10 years ago are not fit for purpose today. When you bought yours, you wanted an extension you could use throughout the year: somewhere warm in winter and cool in the summer. In hindsight, what you ended up with was a conservatory that left you sweltering in summer and freezing in winter.
Around 10,000 were installed in 1976 alone. While it may be too late to upgrade a 1970s aluminium conservatory, if your uPVC structure was built in the 1980s there are many things you can do to bring it up to date. Upgrading your old conservatory today means you could have something more like an extension rather an occasional garden room, giving you the year-round space you always wanted.
Temperature extremes
First, look at simply replacing the glass in your ageing conservatory. These days, the latest glass coatings make window panes much less prone to extremes in temperature. The technology keeps conservatories cooler in summer by reflecting heat away and warmer in winter.
Invisible to the naked eye, these microscopically thin coatings reflect the sun and stop harmful UV rays streaming into the property, reducing the solar gain.
Today's glass coatings make conservatories much more liveable in all year round. One is even called Four Seasons Glass, because it evens out temperatures for a much more comfortable living space. These new coatings didn't exist 10 years ago, let alone during the era of flared trousers and the Bay City Rollers.
Nowadays you can choose different glass specifications for any new conservatory. We fits A+ energy-efficient glass as standard. Replacing the glass in a south-facing window will reduce overheating in the rest of the space. Conversely, installing more energy-efficient glass in a particularly cold window in the extension will help keep the room warm.
Thermal efficiency
Meanwhile you may be getting tired of the aluminium sliding doors at the far end of your conservatory that you have had since the 1980s – but building regulations probably won't let you replace them because you'll lower the room's thermal efficiency and put a cold spot at back of your house, which means even higher energy bills.
One solution might be to replace the roof. You could have solid tiles or a combined glass and solid roof, making your conservatory a seamless, open-plan part of your house – not just a bolt-on.
On a tiled roof extension, if you wish, you can have tiles that match your house – helping create a seamless extension – or lightweight synthetic tiles that are impossible to tell apart from the ground. It's another example of how technology has progressed. Synthetic tiles are hard-wearing, have all-weather thermal insulation and come in a range of colours and styles. But best of all, they're lightweight. Replacing the roof on an older conservatory, you have to be mindful of the weight. What you don't want is your elderly conservatory collapsing under an unexpected dumping of snow.
Three of the best

| Easy ways to transform your conservatory space

CROWNING GLORY

Replacing the roof of your conservatory with solid tiles will help it blend in with the house – and you can even opt for matching brickwork.

SEAMLESS TRANSITION

If you like open-plan interiors, consider installing a combination of glass and fixed roof it will make your conservatory look and feel like a real extension.

LET THE LIGHT IN

Next-generation glass gives all the garden visibility you could want while keeping your conservatory cool in summer and warm in winter.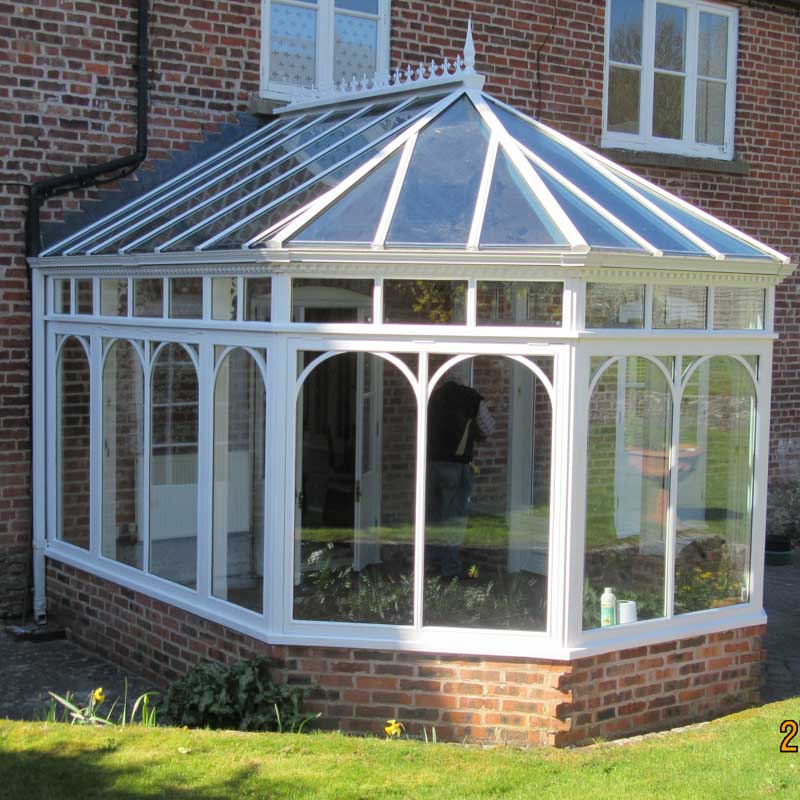 On-trend colours
The frame itself is the final element to consider when upgrading your conservatory. While you're improving the roof you can improve your wall frames with brick to give more of an extension look. People care more about what conservatories look like: 10 years ago, frames were either white or aluminium, but today you can opt for contemporary colours such as on-trend anthracite or chartwell green.
Most early conservatories were just glass boxes bolted on to the house, whereas the new generation tend to be designed to meld with the whole fabric of your home.
Dwarf walls run around the perimeter of your conservatory, so you could match the bricks of your dwarf wall to the original house. Older dwarf walls can be injected to become highly insulating. Or you could also insulate your conservatory floor as you might be losing heat downwards.
Rather than have an all-glass conservatory, corner pillars would transform your glass cube into a more elegant orangery structure. Having created a solid structure with high-level insulation, you can then balance the room's temperature all year round.
WHAT TO CONSIDER WHEN BUYING A NEW CONSERVATORY
Buy something fully approved – you want to be able to see that all planning and building regulations have been met.
Your builder should be happy to show you that all accreditations are in place.
How good is security? Do the locks meet or, even better, exceed British Standards?
Check out the company. TJ Conservatory Solutions has over 20 years' experience.
How is the roof going to be supported and what kind of groundwork needs to be done to make sure that your conservatory remains solid and secure long into the future?
Don't just buy a picture – you need to know that however good your conservatory looks on paper, the workmanship and materials going into it will be of the highest quality.
Will the conservatory fit your needs? Make sure the design is suitable for how you want to use the room – is it somewhere you will sit and relax, enjoying looking at your garden? Or will you use it as a family room or for entertaining friends?
Will it add value to your home? This room should be an investment in your lifestyle as well as being an asset if and when you come to sell your home.
For professional conservatory fitting and your local experts in conservatories throughout Worcestershire

contact us today!